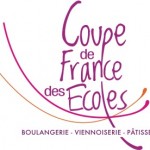 As part of its desire to support and promote the know-how and excellence of the training delivered in our training schools, in 2009 EKIP created the Coupe de France des Ecoles for baking and pastry-making.
Mixed teams of three students representing their training schools take centre stage.
The competition is held every two years as part of   EUROPAIN.
In 1998, EKIP became one of the founder members of France Formation Export (FFE), an association focusing on promoting international training in all the trades in the bakery, patisserie, cake, chocolate, confectionary, ice cream, catering, cooking and milling industries. Visit the association's website for more information.